It's Bedtime Somewhere
House of Performance Event
Friday, June 22, 2018
8:00 - 10:30 PM
47-08 31st Avenue, Apt 3E, Long Island City
It's Bedtime Somewhere, the House Performance Art Event in NYC (June 22. 2018), invites the public to one night only of Live Action Art between domestic and psychological interiors. Featured artists:Georgia Lale (Greece), Hera HaeSoo Kim (Korea), Kara Hearn (United States), Pei-Ling Ho (Taiwan) with Shannon Michelle Stovall (United States), and Jaguar Mary.
It's Bedtime Somewhere is a live performance event which explores issues of family, childhood, dreams and healing through ritual and sensory experiences. Presented by performance artists based in NY, this event will highlight shared emotions and participatory practices. It's Bedtime Somewhere aims to explore in depth intimate relationships, through body, sound, interaction, movement and food.
This event, organized and curated independently by interdisciplinary artist Pei-Ling Ho and composer Cai-Jhen Jhu. Pei-Ling focuses on works that explore themes of "East/West" and "self/other" within the contemporary context of global feminism. Cai-Jhen explores different soundscapes and is interested in all kinds of artistic collaborations. The event will feature performance art works on one-on-one or participatory performance and interaction.
Biographies:
Georgia Lale (Greece) is a Greek visual and performance artist with Turkish heritage, based in New York City. She was born in Greece and graduated from the Athens School of Fine Arts. In 2016 she completed her MFA Fine Arts program at the School of Visual Arts in New York. She is the recipient of several awards and fellowships of excellence. Georgia developed a performance art project entitled #OrangeVest that seeks to confront the refugee crisis in Europe. These public space interventions were performed at di erent sites in New York and other US cities, and most recently in Brussels, where a group of refugee artists was involved in the project. This work was also presented in the Greek Pavillion at 15th Venice Architecture Biennale.
Hera HaeSoo Kim (Korea) is an artist living and working in New York City and Seoul. Hera graduated from Hongik University in 2013 with her MFA in Sculpture and completed with a Ph.D in Fine Arts. She is pursuing her MFA in Fine Arts at the School of Visual Arts in New York. She spends as much of her time in various teaching engagements when not working on her art.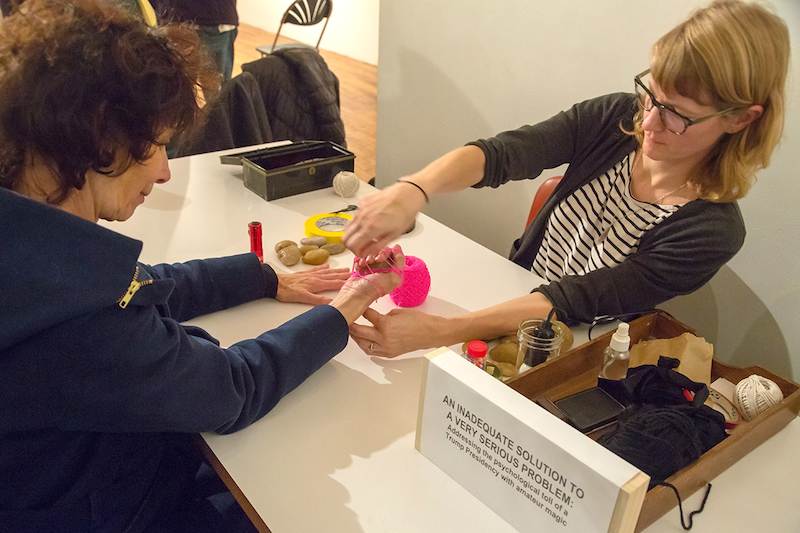 Kara Hearn (United States) is an interdisciplinary artist. Her work has been screened, exhibited, and performed nationally and internationally at venues such as MoMA, SFMOMA, Bluecoat Gallery, DiverseWorks, New Orleans Museum of Art, Yerba Buena Center for the Arts, White Columns, Berkeley Art Museum, Pacific Film Archive, Walker Art Center, Antimatter [media art] Festival, and the Dallas Medianale. Hearn was a fellow in the Core Program in Houston,TX and has completed residencies at Recess and EFA Project Space in New York City. She was featured in the book Double Act: Art and Comedy by David Campbell and Mark Durden in 2016. Born in Oklahoma, Hearn currently lives and works in Brooklyn, NY.
Pei-Ling Ho (Taiwan) is an interdisciplinary artist. She is studying in School of Visual Arts with an MFA in Fine Arts. Through performance, video, photography and mixed media, PEI-LING explores questions of gender identity and perception within various contexts, ranging from the con ict between exotic and local culture and the legitimacy of parents under social system, and drawing from her experience growing up in Taiwan. She has had group exhibitions include SATELLITE ART SHOW in Miami, ITINERANT: the annual Performance Art Festival in NY, 29th Festival Les Instants Vidéo in France, CONTEMPORARY VENICE - ITSLIQUID International Art Show in Italy and more. PEI-LING currently lives in Queens, New York. (Right in the photo)
Shannon Michelle Stovall (United States) was born in San Diego, California and resided in San Francisco for nearly a decade. Graduate of San Francisco Art Institute with a BFA in Painting and a current MFA Candidate at School of Visual Arts, she additionally studied abroad at the Glasgow School of Art in Glasgow, Scotland. Her practice is an exploration of the culturally constructed notion of gender and the strange personas we create in order to navigate and make sense of our identities. She questions our collectively nuanced and complex ideas of selfhood through performance, photography, video and painting. She has performed live at CP Project Space in NY, and had group shows at SVA's Flatiron Gallery in New York, Book & Job Gallery in San Francisco, and En Em Art Space in Sacramento. Shannon Stovall currently lives in Manhattan, New York. (Left in the photo)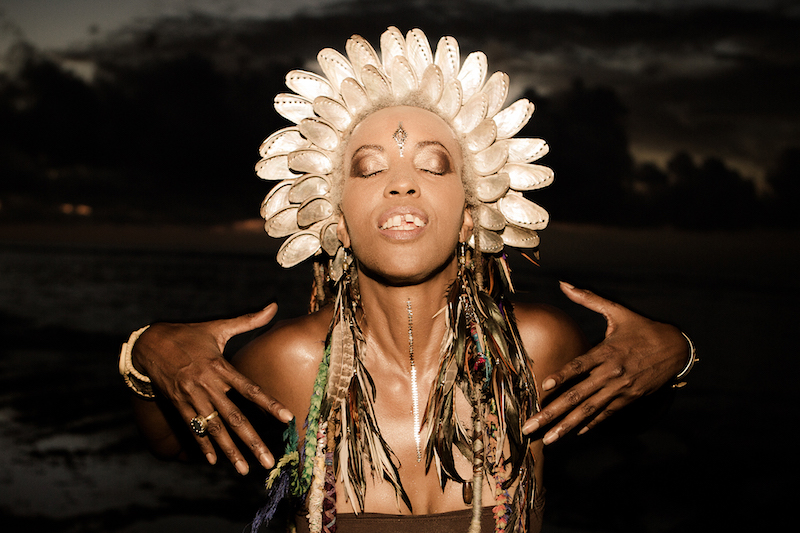 Jaguar Mary is a performance artist, glossolalia vocalist, lmmaker and hoop dancer. Her specific concerns, and the directives that have driven her art practice, engage black feminist discourse, questions of history, and now, ritual performance and practice in art as tools to help us out of our world crisis. Jaguar Mary aka Jocelyn Taylor is an alumni of the Whitney Independent Study Program and has shown internationally, at the Johannesburg and Havana Biennials, and in galleries in Venezuela, Canada, France, the Netherlands and Dietch Projects in New York. She's also collaborated with feminist artists Annie Sprinkle, Yvonne Rainer, Cheryl Dunye and others.